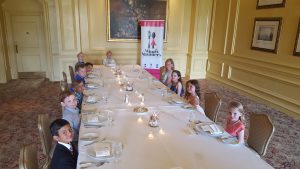 Join us for Mimi's Manners for Children where children ages 6 – 12 enjoy a two-hour class in etiquette. Students dine on a delectable three-course meal created by the talented Chef at The Ritz-Carlton, receive hands-on instruction and a take-home workbook full of helpful reminders. Children will leave with a new-found confidence and will make you proud of their new skills and good manners!
 Wednesday, July 17, 2019  from 6 – 8 p.m.
$75 per child (65 for Ritz-Carlton members), includes three-course meal, lessons and take-home workbook
For Reservations: Please call The Ritz-Carlton, Sarasota at 941-309-2000.