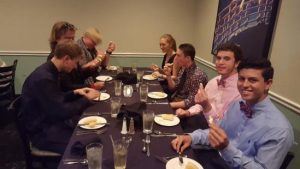 Teenagers may find a class in manners old fashioned but studies show that manners are more important than ever in securing a part-time job, getting into college and simply navigating through life's many challenges.
Students receive personalized instruction throughout the class to ensure they learn the proper skills, then enjoy practicing their new skills with one another.
Students will learn:
Proper handshakes, introductions, non-verbal communication
How to navigate dining with confidence (they'll gain practical experience while enjoying a three-course meal during the class)
How to converse with adults, especially prospective job interviews
Appropriate usage of technology & Social Media
How to be a lady or gentlemen on a date
Reservations: lcriswell@edisonfordwinterestates.org or call 239-334-7419.